Vitafoods Switzerland-Andy Biotech Booth: O148
Time:2017-05-05 Hits:
【Introduction】
Vitafoods Europe 2017 will be hold at Geneva, Switzerland on May 9th~11th. Vitafoods Europe is a professional event for European natural plant extracts and health food ingredients. After 16 years of development and the high-quality positioning, it has been in the high degree of concern and recognition of the global health food industry professionals, and it becomes the benchmark of European nutrition and health food market with unshakable industry leading position. With the vigorous development of nutrition and health food products, Vitafoods occupies a good position in emerging markets after years of market test. It has attracted high-level scholars, researchers and scientists around the world to explore trends, developments and commercial applications for new health care products in countries with varying degrees of economic recession in the global economy.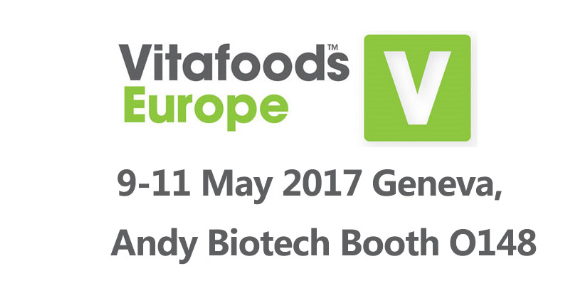 【Contents】
Nutritious food, health food raw materials and ingredients, dietary supplements, functional foods, functional drinks, nutritional supplements, supplements, cosmetics, botanical extracts, OTC, marine products, animal raw materials, amino acids, antioxidants, bioactive ingredients, edible fiber, yeast, essential oils, protein, vitamins, minerals and finished products.
【Andy Biotech Introduction】
Andy Biotech (Xi'an) CO., Ltd. adheres the core values of customers first, hard working and enterprising spirit, and contributes to the development of the medicine raw material.
We will attend Vitafoods Europe 2017 in Geneva, Switzerland and the booth is O148. All of us are looking forward to meeting you here.

Booth: O148
Time: 9th~11th May
Add: Route Francois-Oeyrot 30, CH-1218 Grand Saconnex, Switzerland
Contact: Catherine Sue
Tel: 0086-15029046321