Green Tea Extract EGCG Technical Data Sheet

Sense Index

Appearance

White powder

Odor & Taste

Characteristic

Physical-chemical Index

EGCG(HPLC)

90% Min

Caffeine (HPLC)

3% Max

Particle Size

95% pass 80 mesh

Loss on drying

5% Max

Ash

5% Max

Methylene dichloride

5ppm Max

Ethyl acetate

50ppm Max

Heavy metals

10ppm Max

Lead

5ppm Max

Arsenic

2ppm Max

Mercury

1ppm Max

Cadmium

1ppm Max

Hygienic Index

Total plate count

1000cfu/g Max

Mold & yeast

100cfu/g Max

E.Coli

Negative

Salmonella

Negative

Statements: Non-Irradiated, Non-GMO

Function: Anti-tumor, anti-oxidant, deodorant, anti-caries, anti-radiation, anti-bacterial widely used in cosmetics, food and pharmaceutical industries.

Packaging: 1kg/aluminium foil bag, 25kg/drum (37*37*50cm).

Shelf Life: 24 months stored in original packaging away from the light, and under the optimal temperature 10~25℃.
Application:
High in Antioxidants: Green tea extract is rich in antioxidants called catechins, which have been shown to increase antioxidant capacity and protect against oxidative stress.
May Promote Heart Health: The catechins in green tea may help reduce blood pressure and improve blood fat levels, which promotes heart health.
Good for the Brain: Green tea extract has been shown to have a positive effect on brain health and memory, and may help protect against brain diseases.
Help With Weight Loss: Green tea extract can aid weight loss by increasing the number of calories your body burns through thermogenesis.
Might Benefit Liver Function: Green tea extract seems to help improve liver function by decreasing inflammation and oxidative stress.
May Reduce the Risk of Cancer: Green tea extract has been shown to help maintain cell health. It may even help prevent some types of cancer, though more research is needed.
Be Good for the Skin: A study showed that applying green tea extract to the skin reduced skin damage caused by sun exposure.
Benefit Exercise Performance and Recovery: Green tea extract increases antioxidant protection against oxidative damage caused by exercise. This translates to better exercise performance and recovery.
Help Lower Blood Sugar: Green tea extract has been shown to decrease the blood sugar level.
Easy to Add to Your Diet:
Green tea extract can be consumed in capsule, liquid or powder form.
Recommended dose: Green tea extract can be consumed in capsule, liquid or powder form. The recommended dose is 250–500 mg taken with food.
Factory show & extraction flow chart: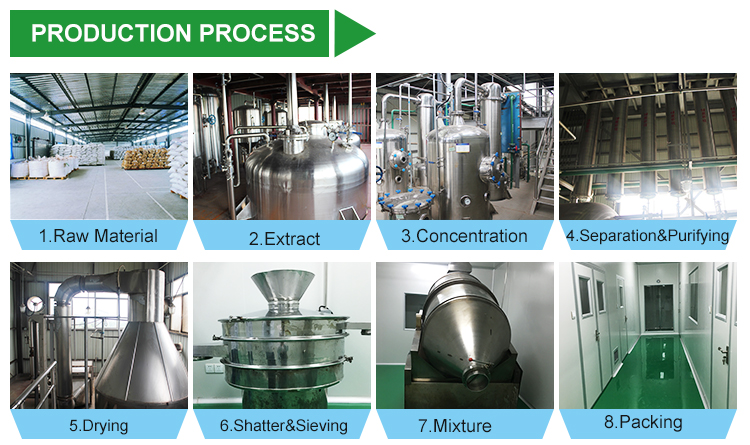 Certificates:
ISO, Kosher

Our Clients